SILICONE WRISTBANDS – DEBOSSED
DEBOSSING SILICONE BRACELETS
This is a silicone bracelet in which the desired design is shown as being engraved or deepened in. This effect is achieved with a special tool that is individually made for you. Your logo or text will be "cut" out of the band.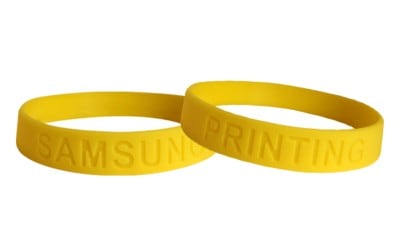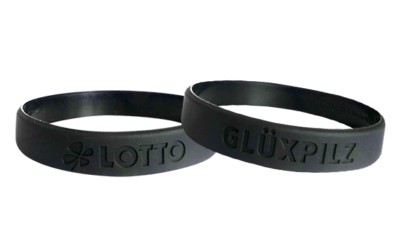 In 2004, this technique was also used in the production of Lance Armstrong's Livestrong bracelets. These embossed bracelets were sold to raise funds for the fight against cancer and thus served a good cause.
Their design is embossed into the ribbons and creates an internal effect. The text and the logo have the same color as the bracelet itself, with only a slight color change due to the texture of the engraving.
ENGRAVED SILICON BRACELET
These bracelets are often ordered for public festivals, large celebrations or charity events. Also at weddings these bracelets are often distributed as a gift. They were popularized by former cyclist Lance Armstrong and his Livestrong Foundation. Since 2004, millions of these bracelets have been sold, helping to raise funds for charity, disease awareness and research.
The message or logo is engraved into the silicone to create an inner effect. This is achieved by using a custom tool to ensure high accuracy. Since no ink is used as with an imprint, the result is a rather inconspicuous, monochrome bracelet. Although the design has the same colour as the ribbon, the shadow created by the embossed letters or logos adds additional contrast. This allows easy readability in certain angles and lighting conditions when the design is "bold" enough. Fine lines and detailed logos should not be chosen for this finish.
These personalized bracelets usually last longer than their printed counterparts. The reason for this is that the design is embossed inside the silicone instead of being printed on the surface with ink. Therefore, these types of bracelets are much better able to withstand the wear and tear of everyday life.
For many companies, associations and organisations this increases the chance that they will be worn longer after being given away or sold.