THE DESIGN OPTIONS FOR YOUR INDIVIDUAL SILICON WRISTBAND
silicone-wristbands.eu offers you several types of finishing for the silicone wristbands:
IMPRINT – DEBOSSED – DEBOSSED WITH COLOR FILLING – EMBOSSED – EMBOSSED WITH PRINTING
Imprint
The logo and / or slogan are printed to the silicone wristband using screen or transfer printing (one or more colors). The number of printing colors is not limited with this refinement.
Debossed
Letters and logos are "cut out" of the silicone wristbands so that the effect of an engraving is created and can be filled with color.
Embossed
Letters and logos are applied to the band, creating a kind of 3D effect. This embossing can also be covered with color.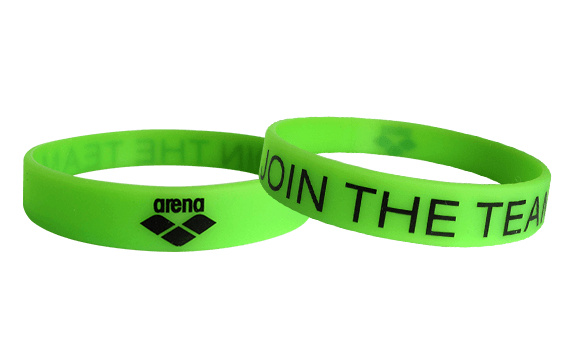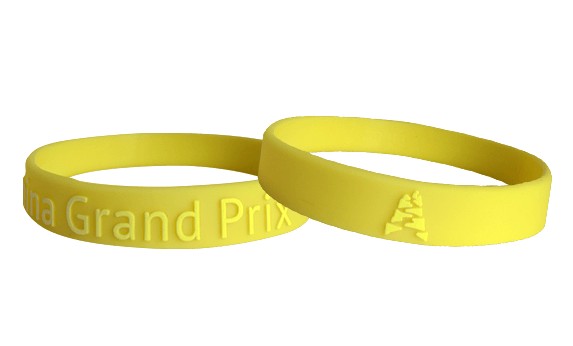 EMBOSSED SILICON BRACELET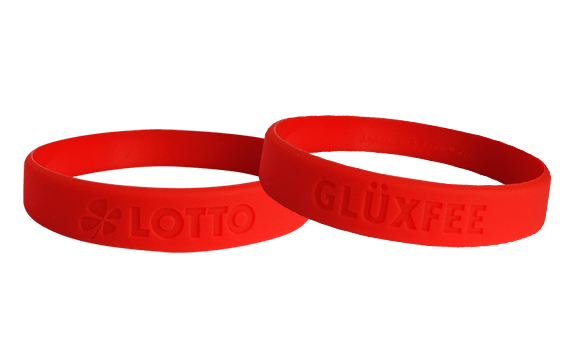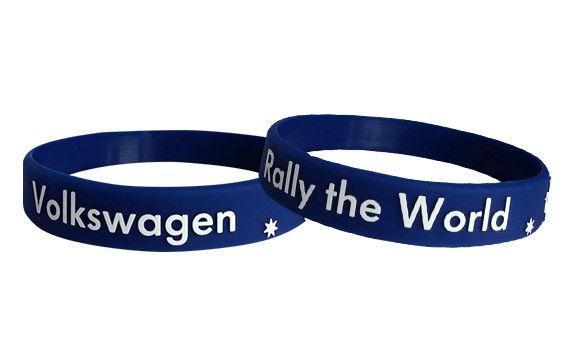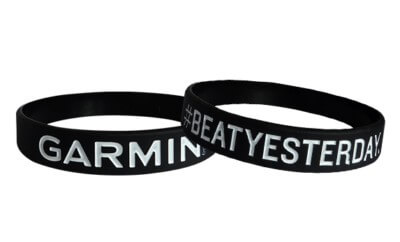 ENGRAVED WITH COLOR FILLING
THE QUALITY OF OUR SILICON BRACELETS
The wristbands from silicone-wristbands.eu are made of 100% silicone and therefore better quality and more durable than wristbands made of PVC or rubber. Since there are hardly any limits when it comes to the design of the bands, you can also vary the thickness. We normally produce bracelets with a thickness of 2 mm. These are more elastic than a bracelet with a higher thickness.
Convince yourself of the quality of our silicone wristbands.
DESIGN AND PRODUCTION FOR YOUR INDIVIDUAL SILICONE BRACELETS
Digital design
On request, we would be happy to create a digital design for the silicone wristbands. This gives you an impression of what the bracelets will look like before you place your order and you can also make changes to the design if necessary.
Production
After confirmation of the design, we can start the production. We would be happy to send you some sample pictures for review before mass production begins.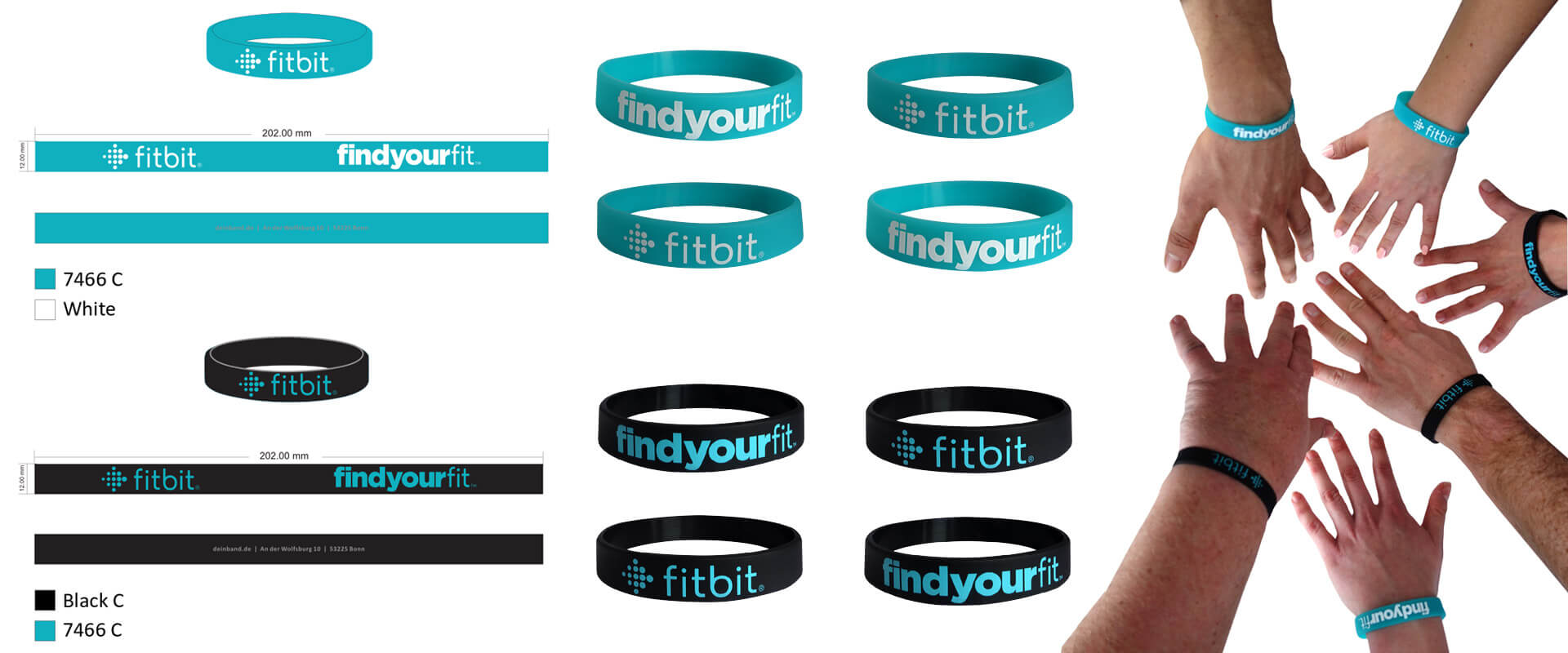 FROM DESIGN TO PRODUCTION TO FINISHED BRACELET ON THE WRIST
We are able to offer you all colors of the Pantone®C color system for every order quantity of silicone bracelets. You can therefore choose from almost 1000 different colors as a band, printing or fill color.
For a small surcharge, you can design your silicone wristbands in several colors, mix the colors and order bands that glow in the dark. There are hardly any limits for the production of our silicone wristbands.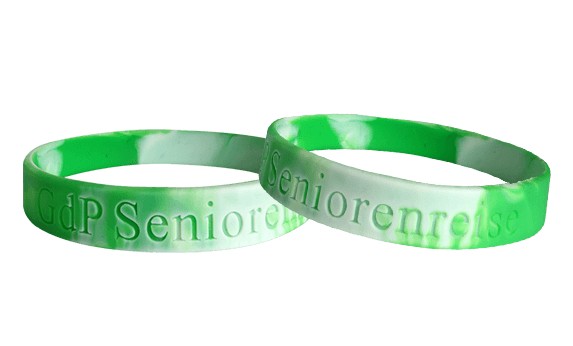 If possible, we need vector graphics (e.g. an .ai file) as templates for creating the design and for producing the rubber bracelets. If you don't have it, you can also send us your .pdf files in high resolution.
If you do not have a print template, our graphic designer will implement your wishes 1 to 1.
SILICONE BRACELET – POSSIBLE SIZES
You can order our silicone straps in different sizes. The normal silicone bracelet with 12 mm width and 2 mm thickness is available in 5 different lengths: 210 mm – 202 mm – 190 mm – 180 mm – 160 mm. Of course, we also offer customer-specific band sizes. Do you need a silicone band with a length of 400 mm, a width of 20 mm and a thickness of 3 mm? No problem – we would be happy to implement your ideas.
Find out more about the different widths and lengths for the silicone bracelet here.
Would you like to order the silicone wristbands without a logo, only with a slogan, and do not have a digital template? No problem: Just tell us the slogan and the desired font (e.g. Arial or Times New Roman) and our graphic artist will create a digital design for you. We are also happy to take on your special font if you provide us the .ttf or .otf file.
THE MINIMUM ORDER QUANTITY
The minimum order quantity for your individual silicone wristbands is 100 pieces. You can freely choose the band color and, if applicable, printing or filling color(s) and the complete design.
Normally, to save our planet, the wristbands are bulk packed – so, 100pcs in a polybag.
Do you need the silicone wristbands individual packaged? No problem – we would be happy to send you the bands in small polybags.
For larger orders and for a small surcharge, we are happy to take on individual, customer-specific packaging options, e.g. printed polybags, bags with printed headers or insert cards.

SINGLE PACKING, INSERT CARD AND 100 PIECES IN A POLYBAG
THE USE FOR OUR BRACELETS
Promotional items: Promote your company using silicone wristbands. The bracelets have become a stylish accessory that is often worn around the wrist.
Charity campaigns: sell the wristbands for e.g. collect donations or generate attention for the good cause.
Weddings: Order engraved or printed bracelets as a gift. Your guests will remember the day with pleasure and wear the wedding bands for a long time.
VIP wristbands: The silicone wristband is ideal for identifying a specific group of people, e.g. VIP's.
Merchandising: Clubs or artists can use the bracelets as merchandising articles and sell the bands on their website or at events or promotions as fan articles.
Find out more about the possible uses for the silicone bracelet here.