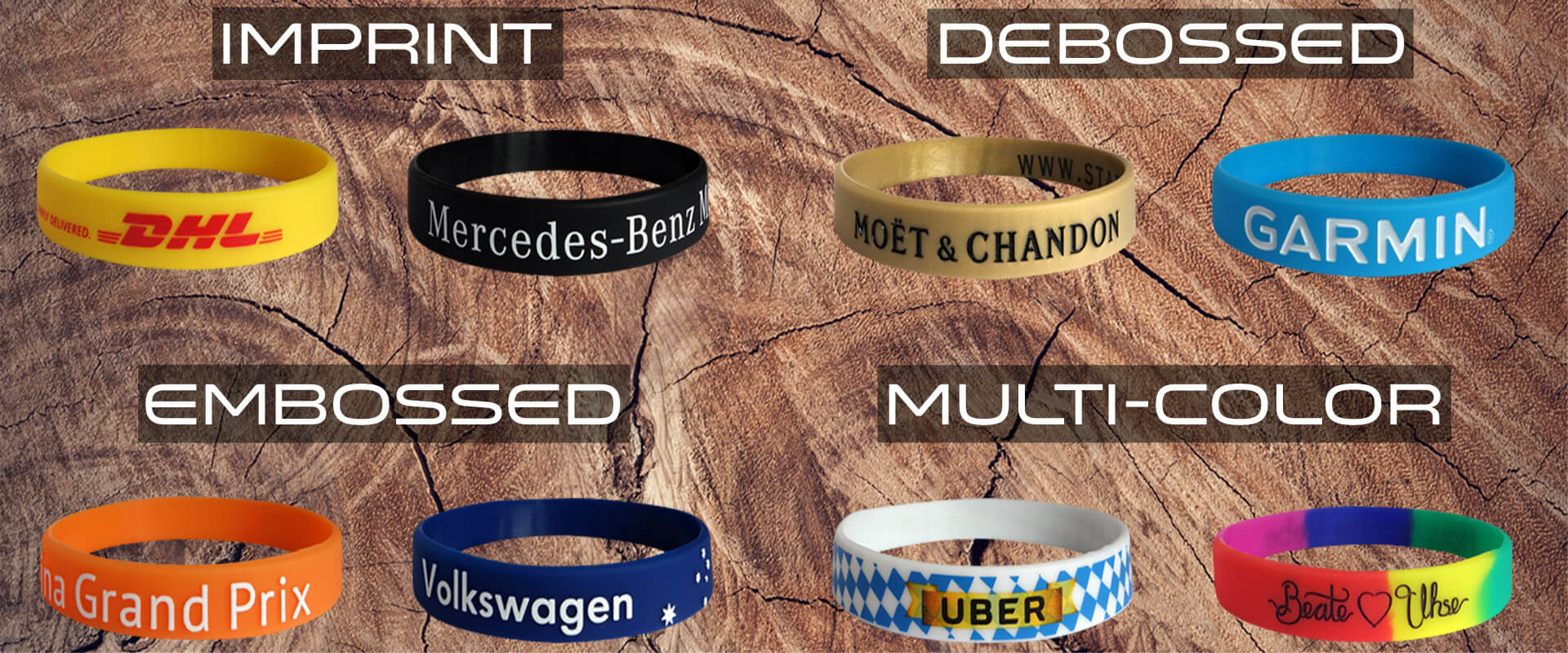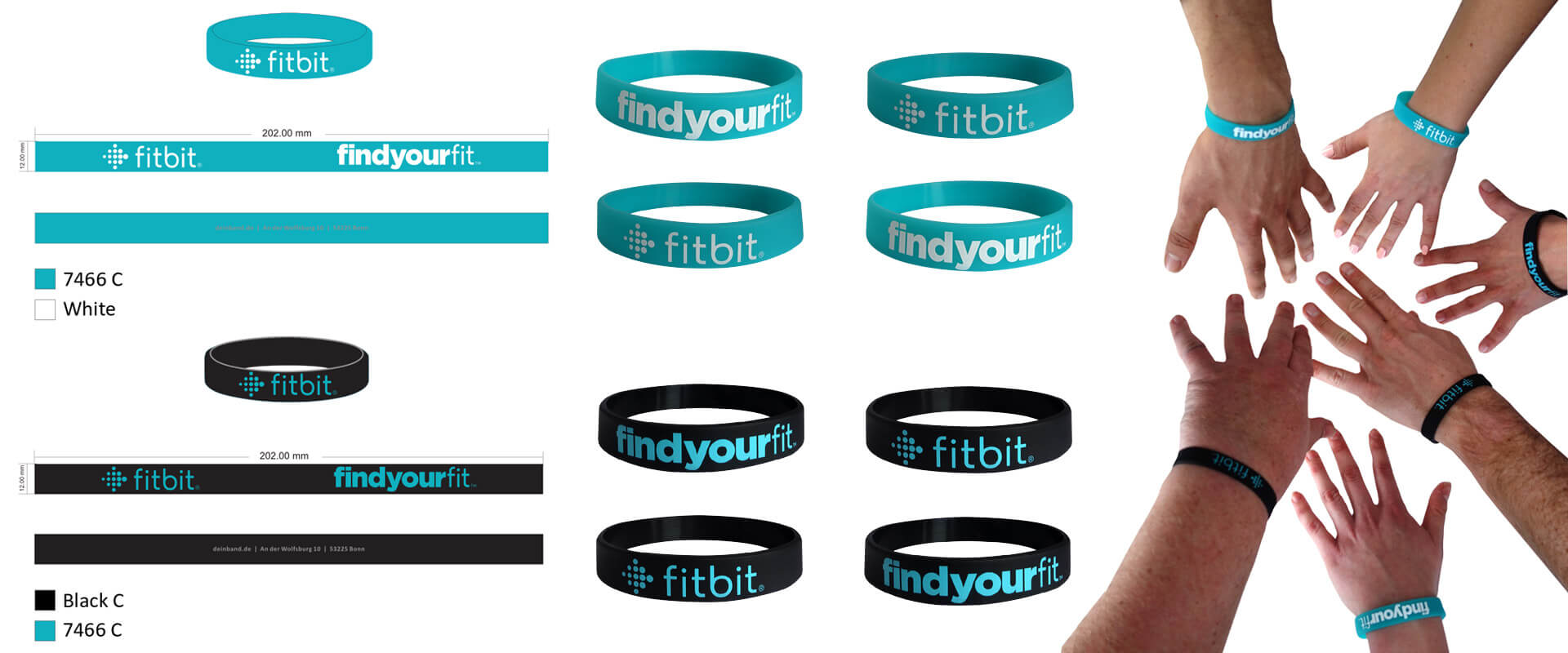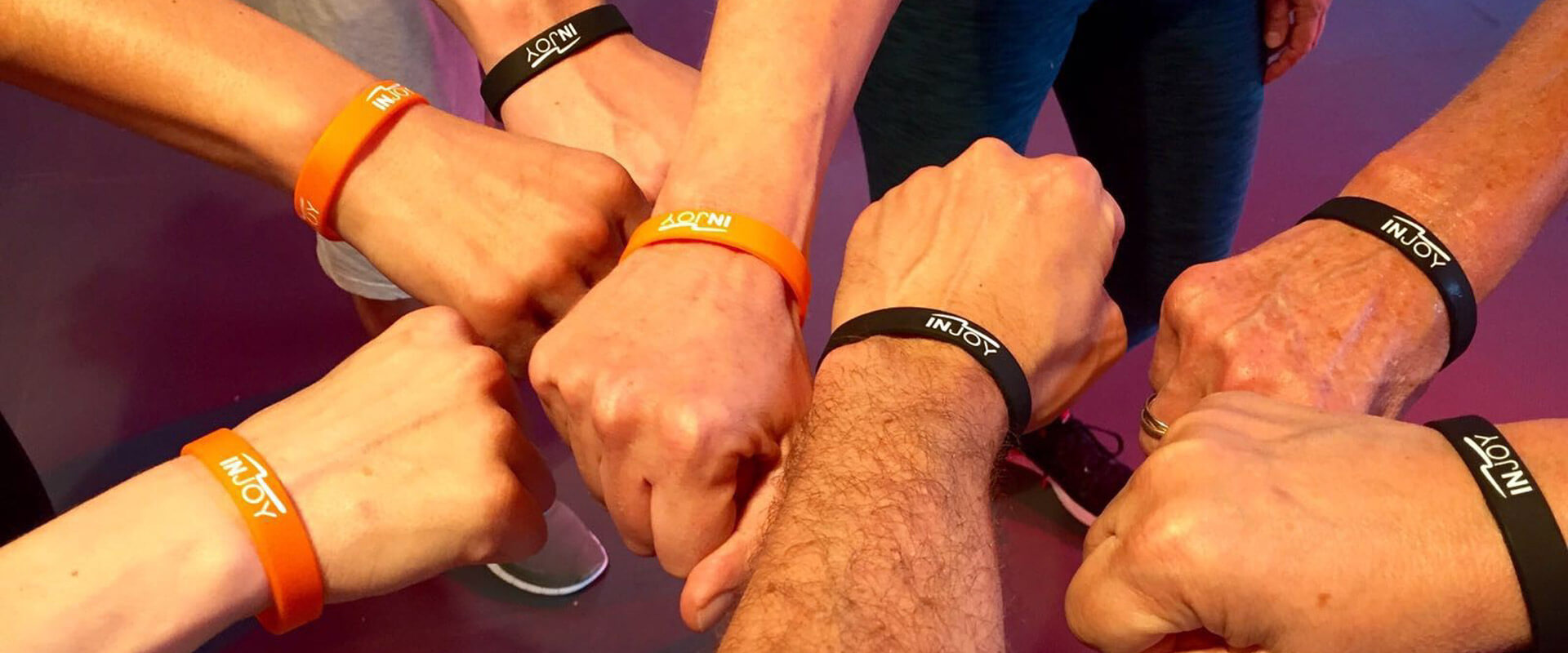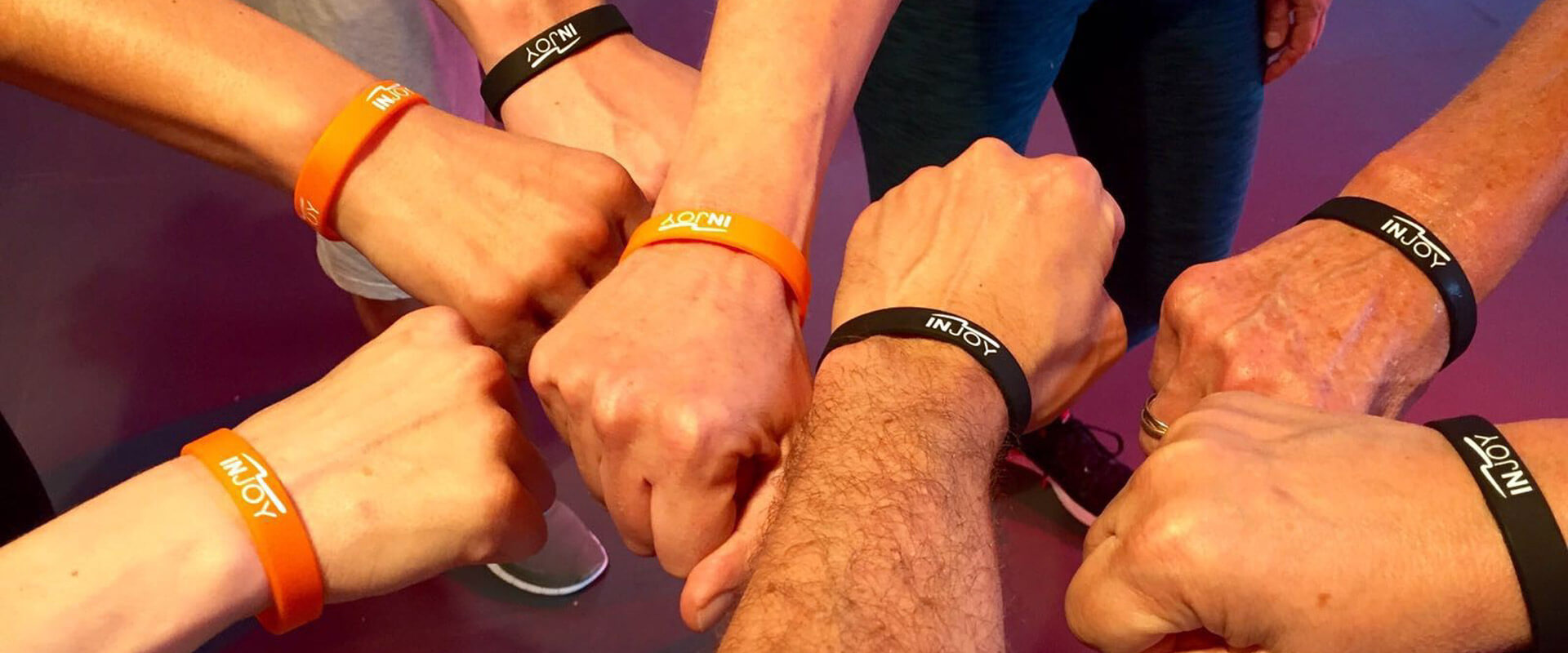 SILICONE WRISTBANDS AS PROMOTIONAL ITEMS
Individual printed or debossed silicone bracelets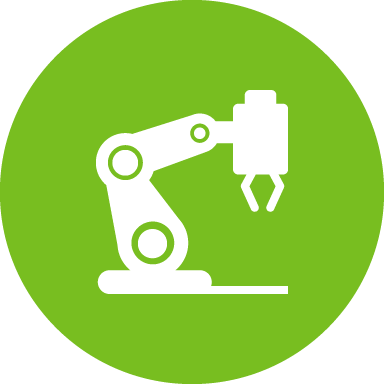 5.000.000 PIECES
Produced silicone wristbands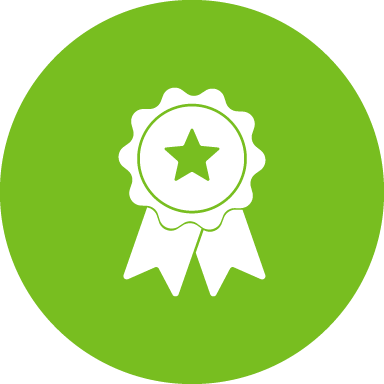 OVER 15 YEARS
Of experience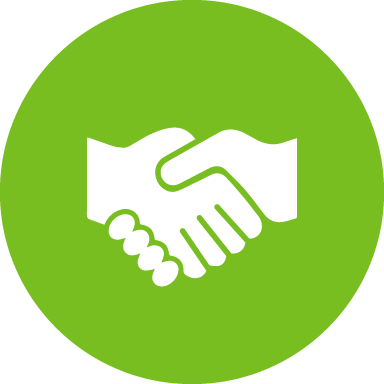 WELL-KNOWN REFERENCES
Trust us, too
ONLY 100 PIECES
Minimum order quantity
The silicone wristbands has been a trendy advertising item from the USA since 2004. The charity campaigns of Lance Armstrong and Nike have made the bracelets one of the most sought-after lifestyle accessories. You now have the opportunity to design your own individual silicone wristbands.
The silicone bracelet is the perfect promotional item for companies, clubs, fan clubs, events, weddings or as a marketing tool. Print, deboss or emboss the silicone wristbands with your logo and/or slogan, your URL or your company or club name. The silicone bracelets are ideal for charity campaigns, as VIP entrance bands or as give-aways. The elastic bands are flexible and adapt perfectly to the wrist of the wearer.
Would you like your logo, signet, icon and/or an individual lettering on the silicone wristbands? No problem – let your creativity run free when designing the silicone wristband. You can freely choose the colours from almost 1000 Pantone® C colors.
Below you will find a brief overview of the design options for silicone bracelets.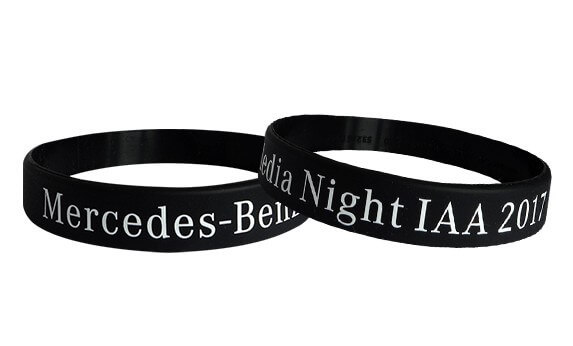 1-COLOR PRINT
Unicolored printed silicone bracelets for Mercedes-Benz. The bracelet in black with a monochrome, white imprint.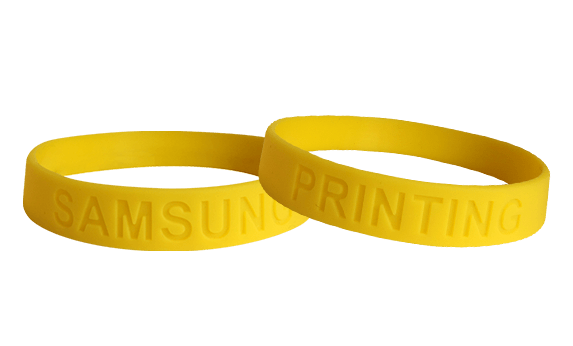 DEBOSSED
Silicone bracelet for SAMSUNG. Design with engraving without colour. Logo and slogan exactly at the opposite of each other.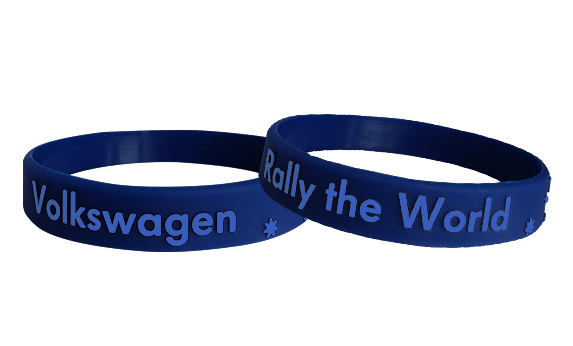 EMBOSSED
Embossed bracelets with a 3D effect for Volkswagen. Opposite design with installation of symbols.
TWO-COLOR WRISTBAND
Two-colored bracelet for Rot-Weiss Essen. As you can see from the picture, there are color gradients that make each bracelet unique.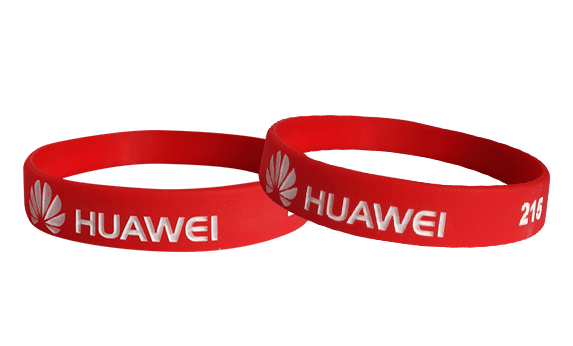 NUMBERED BRACELETS
Sequential numbering of the silicone wristbands. Easy to implement by means of laser engraving and subsequent filling.
12 MM WIDTH
The classic. Most of our individually designed wristbands have a width of 12 mm. A perfect width for every wrist.

DIFFERENT BRACELETS COLORS
Feel free to divide your order quantity into different bracelet colors. It is possible to divide an order of 500 pieces into 5 different wristband colors without surcharge.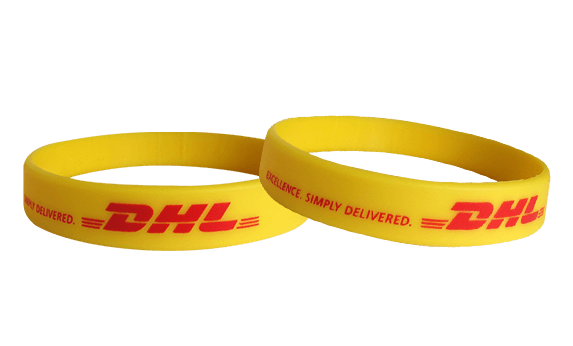 2-COLOR PRINT
The bracelets for DHL were printed in two colours, red and white. The selected yellow bracelet color provides a nice contrast.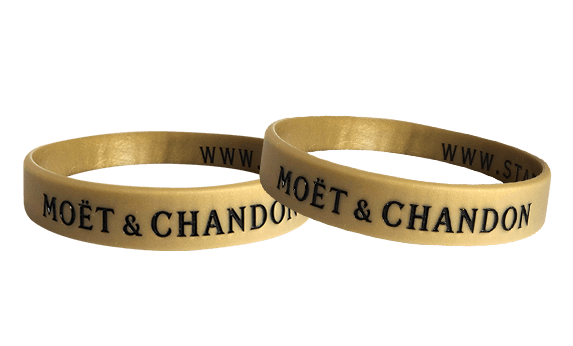 DEBOSSED WITH COLOR FILLING
Silicone bracelets for the champagne manufacturer Moët & Chandon. A golden wristband with black color filling.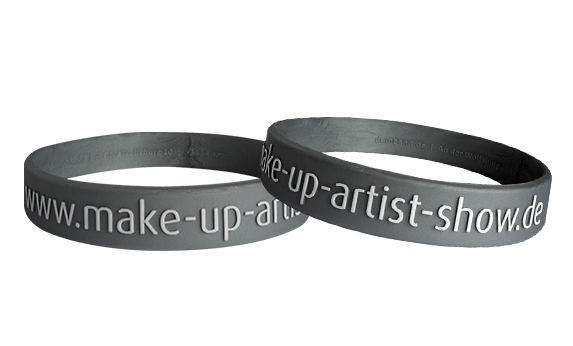 EMBOSSING WITH IMPRINT
Bracelets with embossing and overprint. The 3D effect of the high engraving is even more noticeable due to the use of printing ink.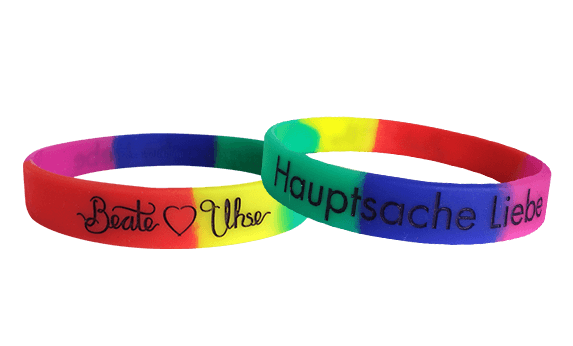 MULTICOLORED BRACELETS
In addition to the two-colour bracelet, we can also offer you five-color bracelets in rainbow design, as shown here.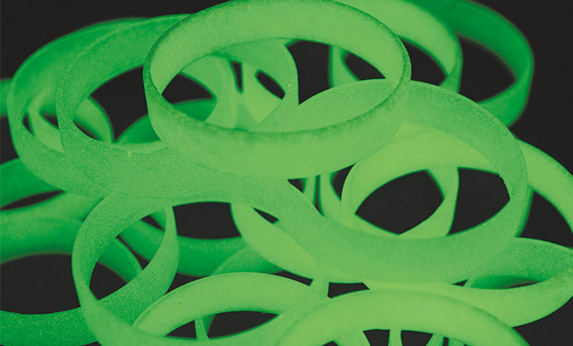 GLOWING IN THE DARK
Your event takes place mostly in the dark? In that case, the silicone wristbands that glow in the dark are a good choice.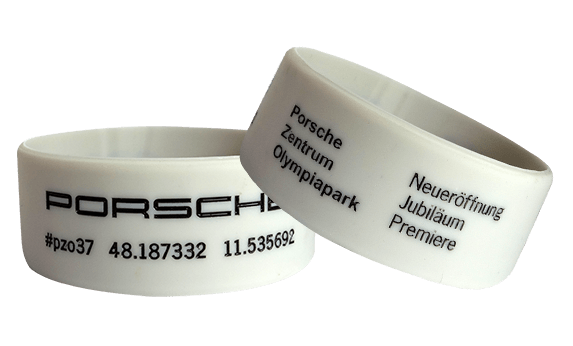 25 MM WIDTH
You want it bigger? If so, the 25 mm wide bracelet is the right choice. Your advertising will certainly stand out.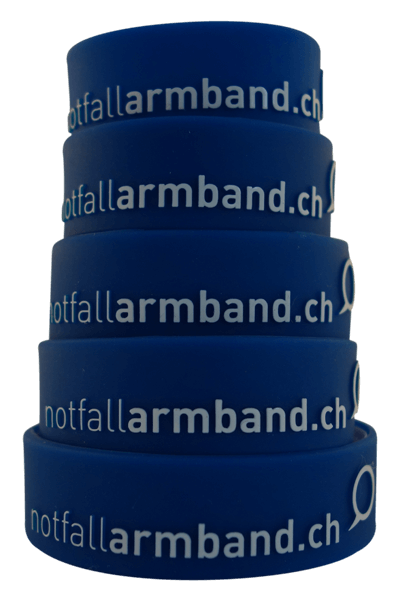 DIFFERENT BRACELET LENGTHS
Do you need more than one band length because the bands are worn by different age groups? For a small extra charge, you can divide your order quantity into different lengths.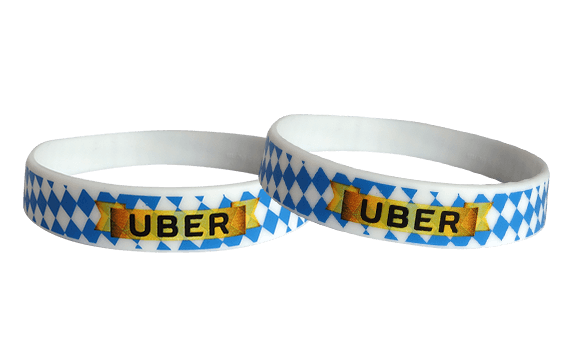 MULTICOLOURED PRINT
Silicone bracelets for UBER for the Oktoberfest. The state flag of Bavaria, including the UBER logo on a yellow background.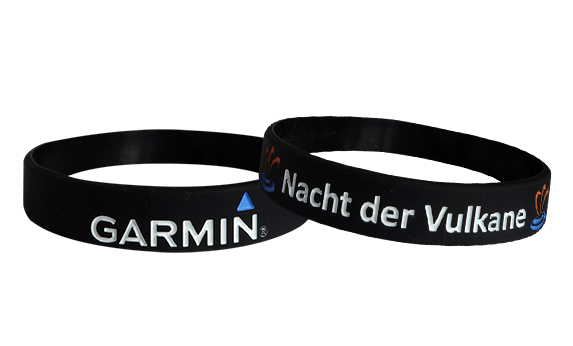 MULTICOLOR FILLING
Silicone wristbands for the event "Night of the Volcanoes". Three-colored filling of the logo and slogan.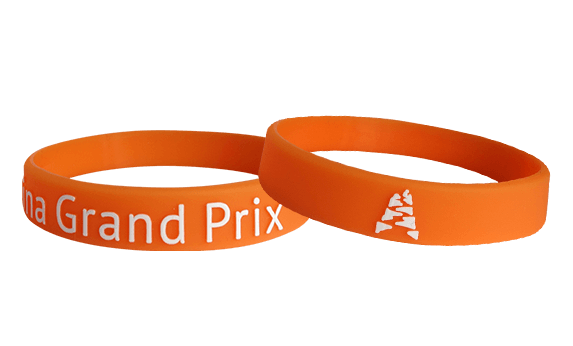 OPPOSITE
Many customers want an opposing arrangement of slogan and logo to divide the design across the length of the bracelet.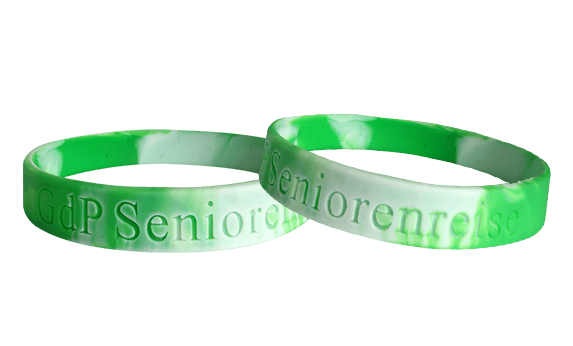 MIXED COLORS
If you choose mixed bracelet colors, each bracelet will be unique. By mixing the different silicones, no two bracelets are the same.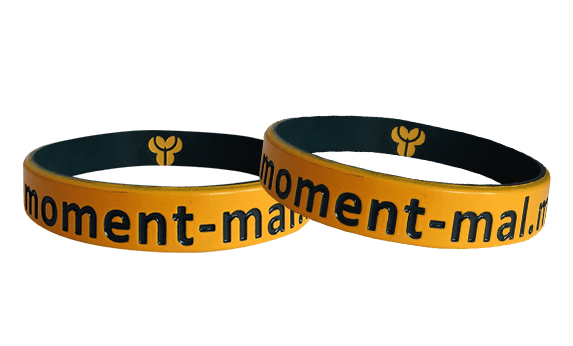 TWO-LAYER BRACELETS
Would you like to design both the outside and the inside? This is no problem with the two-layer bracelet.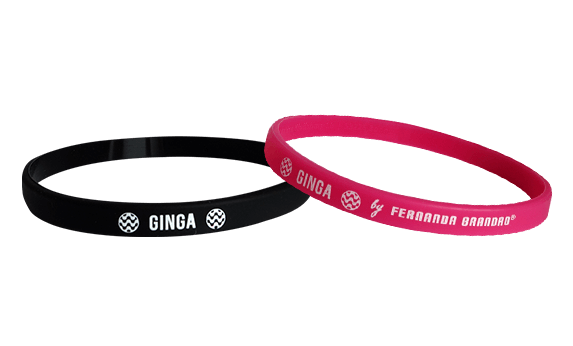 6 MM WIDTH
The latest trend are bracelets with a width of 6 mm. These bracelets are preferably used in the beauty and fitness sector.

DIFFERENT BAND WIDTHS
You can also divide the order quantity into different bandwidths for a small surcharge. The picture shows widths of 12 mm, 20 mm and 25 mm.
BRACELETS FOR INDUSTRY AND TRADE

We've already produced silicone bracelets in various sizes for various applications. In the picture you can see bracelets with a size of 63 x 12 mm (holding a firework at spirit bottles for a nightclub) up to 404 x 30 mm (for looping of patterns). As a result, we can produce almost any individual size up to a length of 600 mm and a width of 40 mm.
OPTIONS FOR REFINEMENT AND OTHER INDIVIDUAL DESIGNING OF THE SILICONE BRACELETS
SILICONE WRISTBAND PRINTING  – The benefit of screen printing is that even more complex designs or more detailed logos can be printed onto the band. The individualised silicone bracelet can be printed in one or more colours.
DEBOSSED / ENGRAVED SILICON BRACELETS – In this finishing process, the slogan, logo and texts are "cut" out of the band with the aid of a specially developed casting mould, similar to an engraving, so that the advertising message is conveyed subtly in the respective bracelet color.
DEBOSSED WITH COLOUR FILLING SILICONE BRACELETS – The stamped bracelets are filled with a silicone-based color so that your advertising is more visible. These wristbands are perfect as promotional items for companies or clubs.
EMBOSSED BRACELET – A special casting mould makes the advertising message look sublime, just like on a credit card. This results in silicone bracelets with a 3D effect.
EMBOSSING WITH IMPRINT SILICONE BRACELET – The embossed bracelets can be given a color layer to further support the 3D effect of the bracelet.
GLOW IN THE DARK – After absorbing daylight or lamp light, these silicone bracelets glow in the dark. Extremely bright band colours, e.g. white, are suitable for this variant. These individual wristbands are therefore a very good advertising material for parties, events or other events that take place in a rather dark environment.
BRACELET COLORS – You can freely choose from the PantoneC colour system for both bracelet and printing or filling colors. You can choose from almost 1,000 different colors so that you can design your silicone wristbands even more personalized.
WRISTBAND SIZES – We offer the following standard bracelet lengths: 210 mm, 202 mm (adults), 190 mm (ladies), 180 mm (teens), 160 mm (children), 150mm.  The standard width of the silicone bands is 12 mm and the thickness is 2 mm. May it be a bit larger? Band widths of 25 mm or 18 mm and thicknesses of e.g. 3 mm are also available.
SPECIFIC DIMENSIONS – In addition to the standard sizes, we also offer customized sizes for the bands. You need a strap with a length of 400 mm, a width of 40 mm and a thickness of 3 mm? No problem, we are happy to implement your wishes 1 to 1.
OTHER BRACELETS – Do you need a silicone bracelet in a specific shape, for your wedding, with the print of a QR code or do you want to number the bracelets consecutively? Or do you need the bands not as a bracelet, but for industrial purposes? Please tell us about your wishes via our contact form or via e-mail, so that we can check their practicability.
ABOUT THE SILICON BRACELETS FROM SILICONE-WRISTBANDS.eu
Since 2005 we have been successfully producing silicone wristbands for events, promotions, sports and charity events as well as for trade fairs and exhibitions.
Our well-known references and our many years of experience will certainly convince you – well-known companies trust in our quality and our know-how in the design and layout of silicone wristbands.
The variety of our finishing possibilities as well as the individual design possibilities of the rubber bracelets make this promotional item a universally applicable one.
We design the bands completely according to your wishes:
• Size: Band length, width and thickness are freely selectable
• Colors: Selection from nearly 1,000 PantoneC shades for band and printing or filling ink
• Finishing: printing, debossed or embossed (with or without ink)
• Design: whether text, symbol or logo – almost anything is possible
You can find more information about the design options for silicone bracelets here.
After you've sent us your design idea, we will be happy to create a digital design for the silicone bracelets. This way, you can see how the desired design will look before you place your order, and you can also request changes if desired.
At silicone-wristbands.eu you can be sure that your desired design will be created on high quality wristbands.
Through our many years of experience in production, we deliver the best result to you. You receive your design on colourfast wristbands made of 100% silicone, which you and your customers will enjoy for a long time.
The costumer service is the most important point for us: from personal consultation to digital design, from sample images via e-mail to free delivery with transmission of the tracking number, we offer a complete carefree solution.
We are also happy to take care of the logistics for you with regard to special packaging as well as shipping to your customers or branches.
It is important to us that you and your customers are satisfied and that the silicone wristbands meet your wishes and expectations.
Convince yourself and request a no-obligation quote today as well as the digital design for your individual silicone bracelets.
Do you need further promotional items?
Visit us at www.werbeartikel-factory.de, where we present our complete range of promotional items.
Here you will find everything you need for your brand appearance, from practical give-aways to high-quality promotional items.